General Chinese courses are designed for adults to improve their Chinese systematically in n listening, speaking, reading and writing. You can choose to have
General Graded Chinese
course or
General Chinese 1 on 1
according to your level or learning need.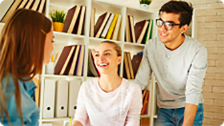 General Graded Chinese
Small group,Learn with peers, Weekly live classes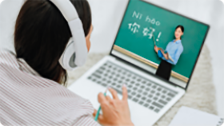 General Chinese 1 on 1
1-on-1,Personalized content, Flexible learning,Highly interactive
As one of the most spoken languages in the world, you may need Chinese language for work, doing business, reading some news or reports or even just traveling in China. BLCU is one of the most qualified universities in China for teaching Mandarin Chinese. Coming to our campus to study Chinese is ideal, but it might not always be possible. If you are not able to come here now but still want to study and improve your Chinese generally, eBLCU offer courses you can study from home or anywhere. We offers Chinese courses for all levels, from total beginner levels to advanced level.
12 Weeks Group Class(HSK1-5)
General Graded Chinese course is designed for students from beginners to HSK 5 level. You can study on a 12 week modules. In each 12 week period you will progress through about half an HSK level.
High Quality – structured classes with professional BLCU teachers
Learn Together – join a group of other similar students. Learn together, make friends and have fun!
Affordable – classes work out only about 20 USD per week
Watch sample videos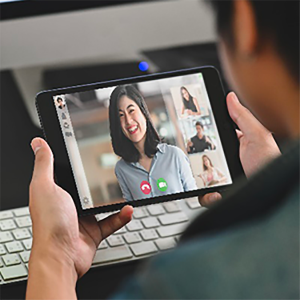 For All Chinese Levels
General Chinese 1 on 1 is specifically designed for non-native speakers of all Chinese levels from zero beginners to advance. Through 1 on 1 classes, learners can accomplish their target fast and use Chinese in their daily life.
Content tailor-made according to a learner's specific needs
Sufficient learning interaction under a 1 on 1 teaching mode
Flexible and highly efficient class arrangement
Book a 20 minutes FREE trial class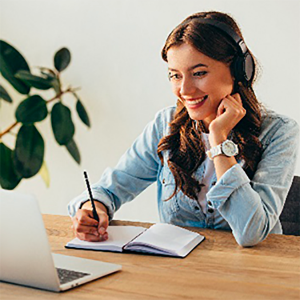 For
General Graded Chinese
course, the mode of teaching is part time, "a little study everyday, goes a long way". By doing a little bit over time you can see fast gains in your Chinese. And you'll also have classmates you can work with and to help inspire you – it makes learning fun, so you can just relax and follow the classes!
General Chinese 1 on 1
is much more flexible, you can have multiple classes during a week in your favorite time. The teacher can prepare the class according to your learning speed. Also you will get more opportunities to speak in class which is crucial for students who are not living in a Chinese language environment. But the tuition fee is correspondingly higher.
Both of
General Graded Chinese
and
General Chinese 1 on 1
are live classes using video conference software. And teachers can help students with their questions through instant messaging software after class too. Watch the class sample videos from here.
What time will the classes be?
We have different
teachers
working from 8am to 9pm Beijing time, 7 days a week. You can choose your preferred class time and then go into the class according to your preference and level. There are students from many different time zones.
Will I get a certificate from the program?
You will get a certificate from Beijing Language and Culture University after completing the program. This will be a digital certificate, but it can also be mailed to you (you may need to cover the postage fee depending on your location).
How can I pay the tuition fee?
You can pay online with credit card, wechat or alipay. Also you can transfer the tuition fee to our BLCU bank account from in or out of China.
3
Choose the package you want and click the orange "pay" button.
4
Fill in your information and made the payment online. Or transfer the tuition fee and upload your bank receipt picture.
5
Contact us to start your class:
Angela Chen
Email: chenweijia@blcu.edu.cn
Wechat: mgy8325
Book a trial class with our coordinator and ask for some academic advice
Or contact:
Angela Chen
Email: chenweijia@blcu.edu.cn
Wechat: mgy8325